Setting up Request Type Items
Setting up Request Type Items
Updated by Edcel Ceniza
While the below video demonstration uses an older version of DeskDirector it still includes relevant information to create request type items. Some features referenced in the video have moved around with the new user interface. Further information is provided in the rest of this document with references to the latest DeskDirector version.
What are request type items?
Request Type Items are used by end-users to submit tickets to your portal. This article will take you through request types items and how to configure them. To begin, login to your admin console and go to Portal > Request Types > Request Type Items where you will see a list of your request types items.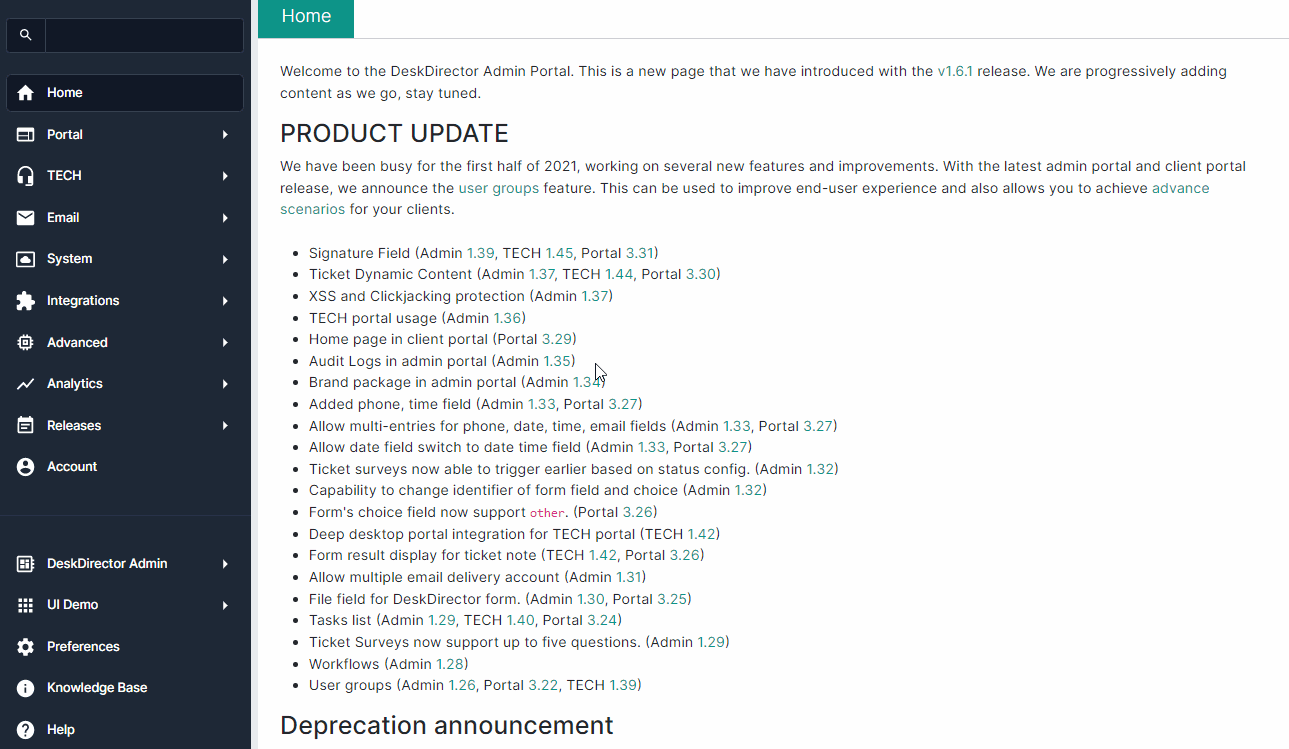 Request Types Items List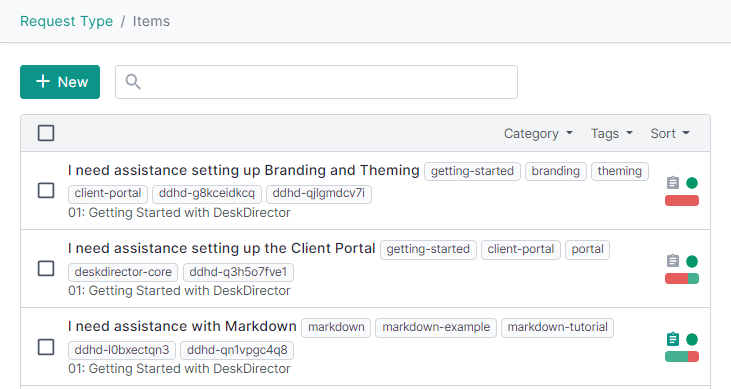 This is the main page when managing Request Types Items. From here you are able to:
Create Type: You can easily create new request types items by hitting the green button to attach it to an existing form. More information will be provided below.
Test Types: You can test companies and contacts against existing request types to see which of them they have access to. You can also login as any contact by using our other awesome feature: Impersonation.
Clone Types: Using this button, you can copy settings from one request type item to a new one; you can copy the filter settings here or any of the ticket settings (board/queue, type, subtype, etc).
Exports: You can use this button to export your current request types.
Search: Filter and search for request types.
Creating a New Request Type Item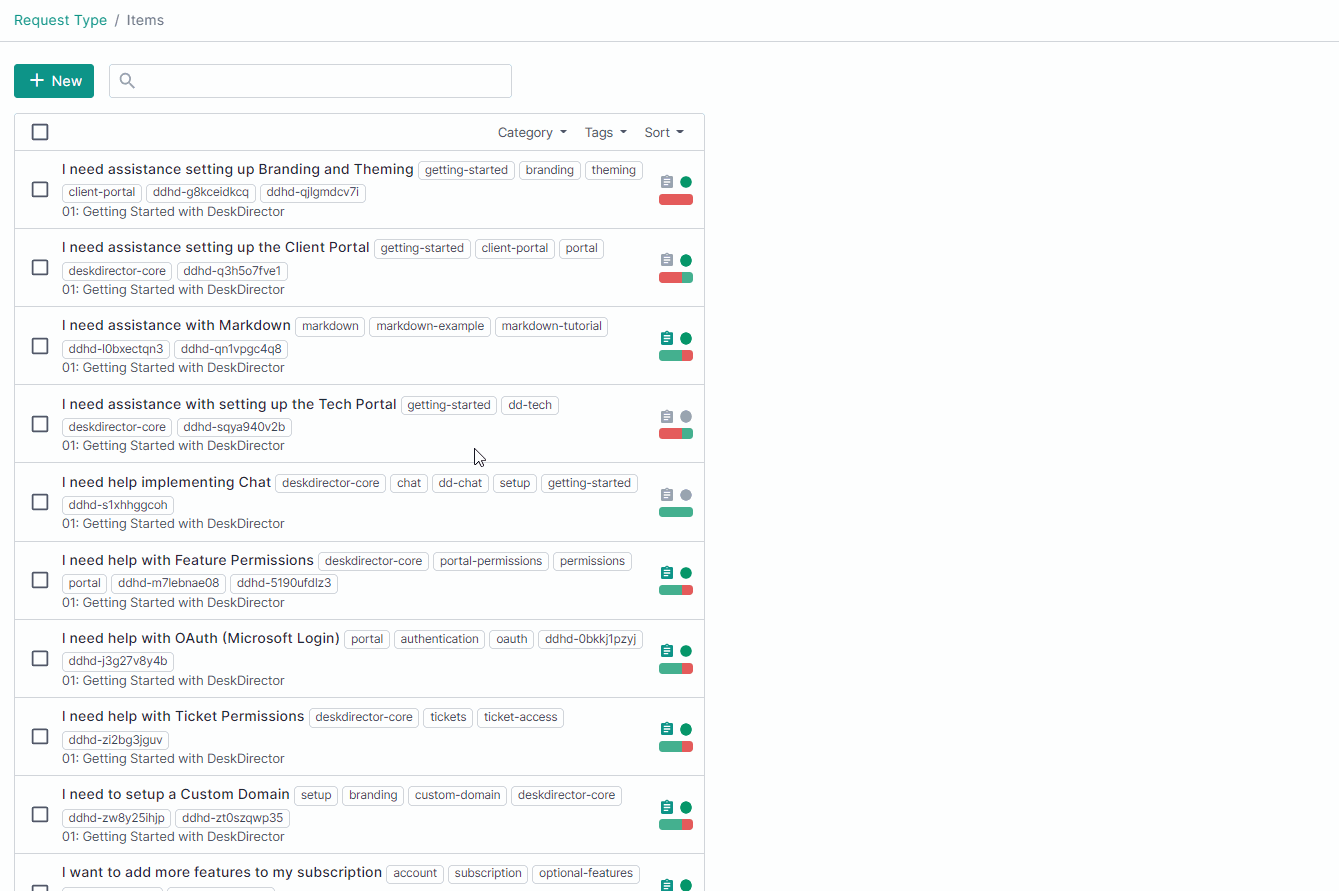 Cloning a Request Type Item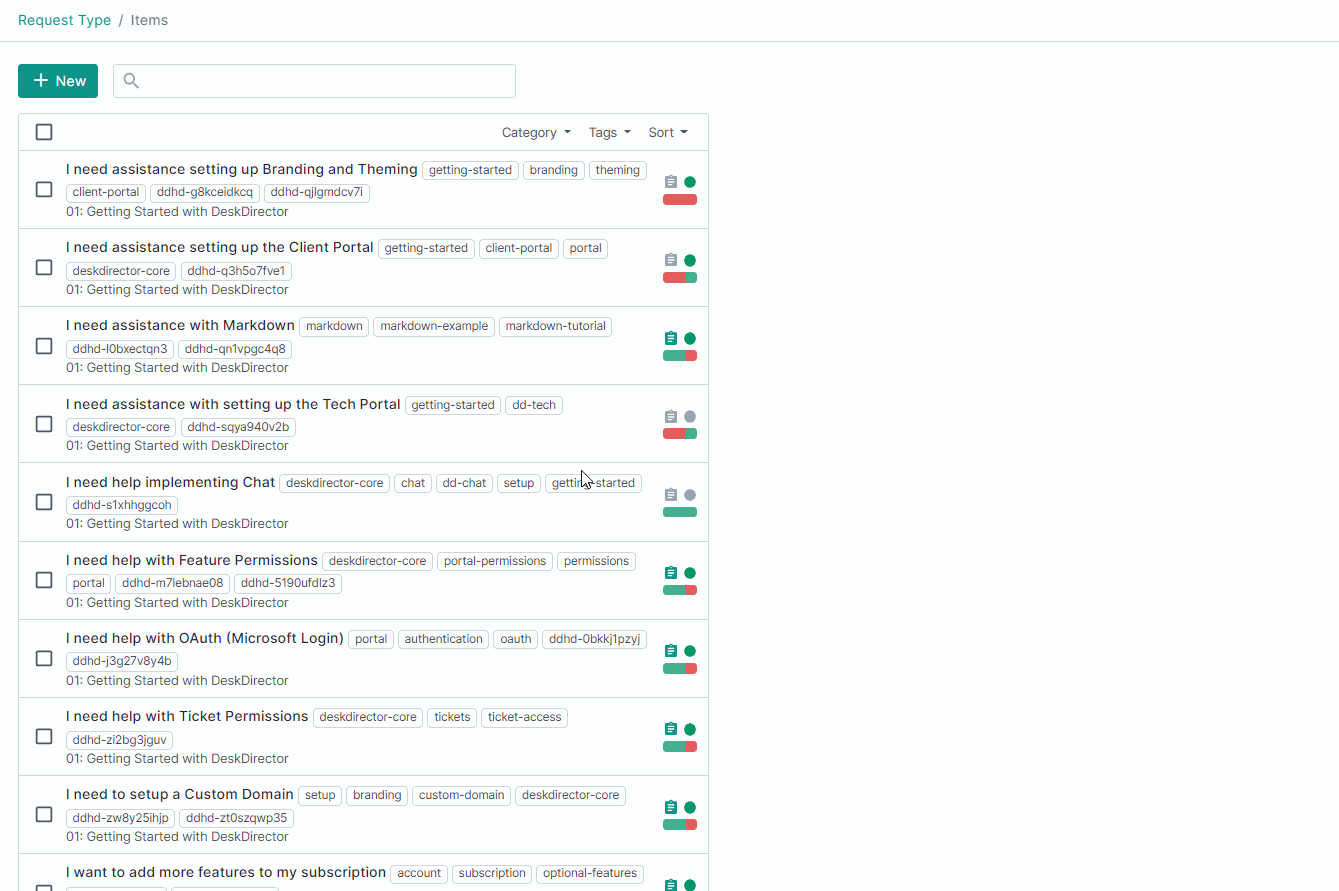 Configuring Request Type Items
You can edit and configure the Request Type Items behavior using these tabs: General, Automation, Filter.
Request Type Items - General Tab
The General tab is where you can save the Request Type Item in a draft or published state, add tags, edit category/description names, attach the form and add task templates.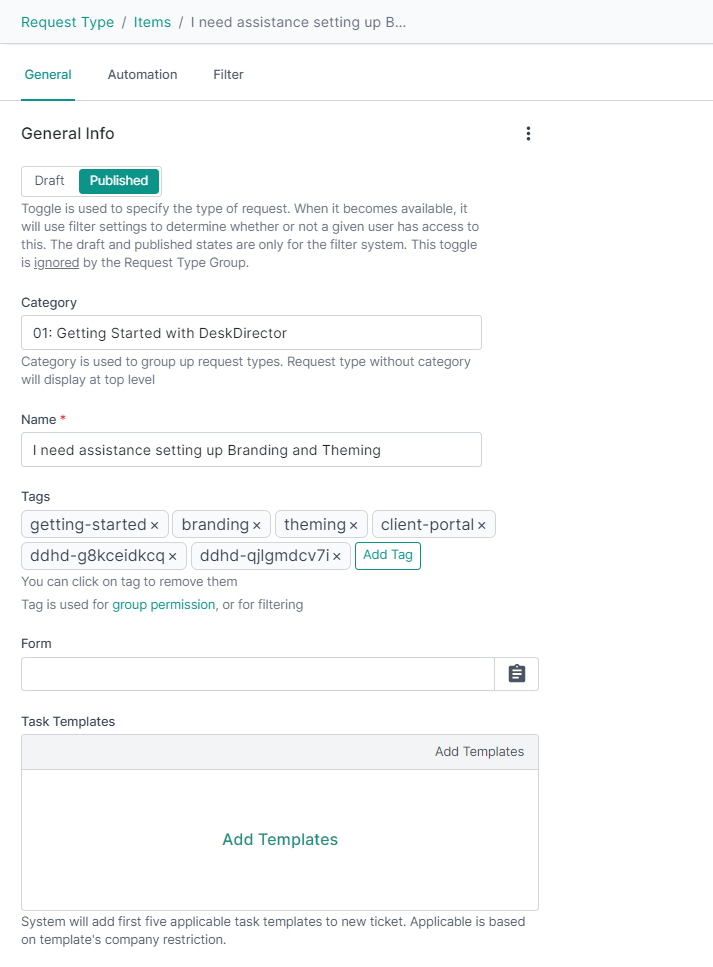 Request Type Items - Automation Tab
The Automation tab is where the ticket created by the request type should be set to: the board, status, priority, source. The ticket tab for ConnectWise and Autotask instance are not identical. Here are screenshots showing the ticket tab of each instance, and the options/fields available for finetuning tickets created from the request types.
Any changes made to the Automation tab must be saved before moving away from this page.
Automation tab - Autotask instance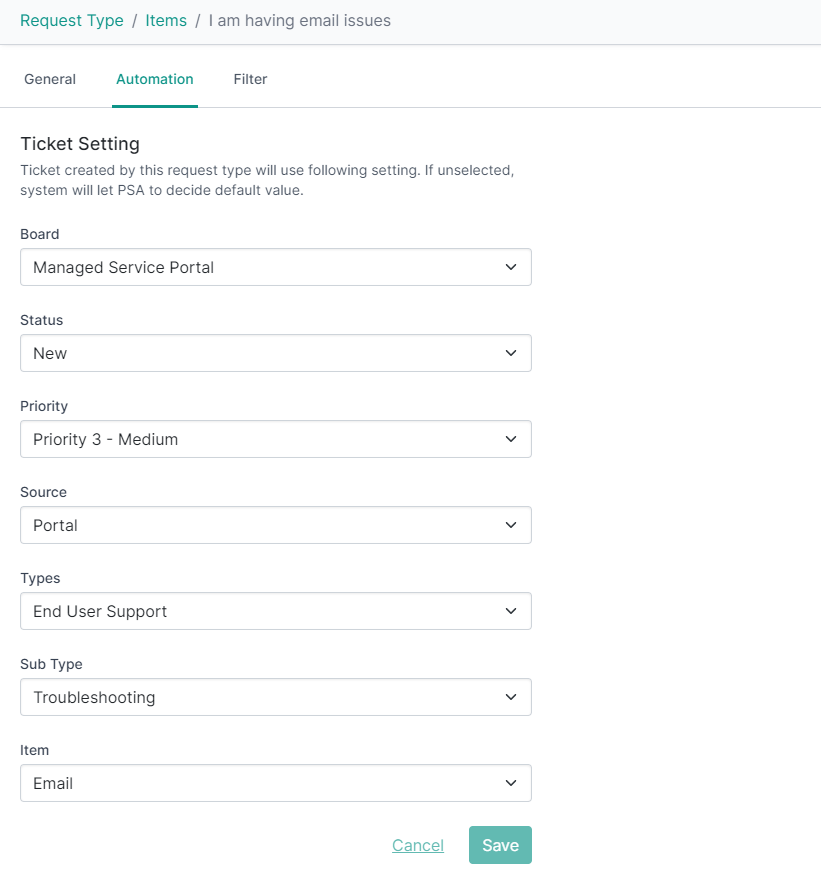 Automation tab - ConnectWise instance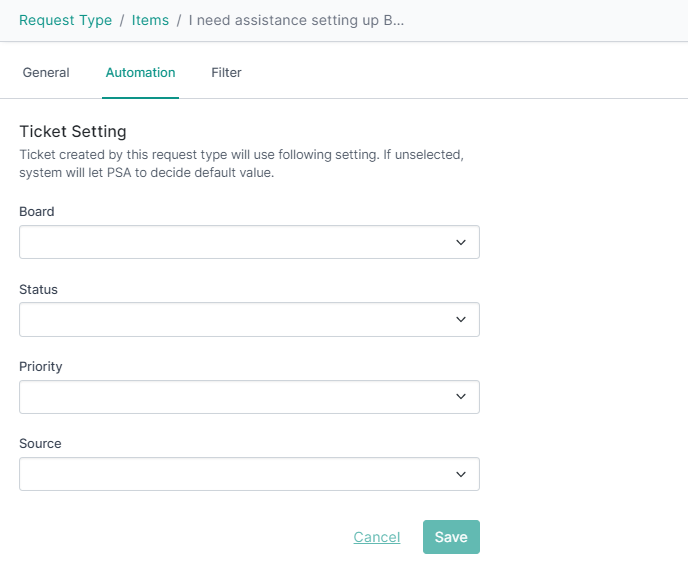 Request Type Items - Filter Tab
The filter tab is DD Forms' filtering system. This allows a great deal of flexibility when it comes to managing permissions - which company/contact has access to the request type.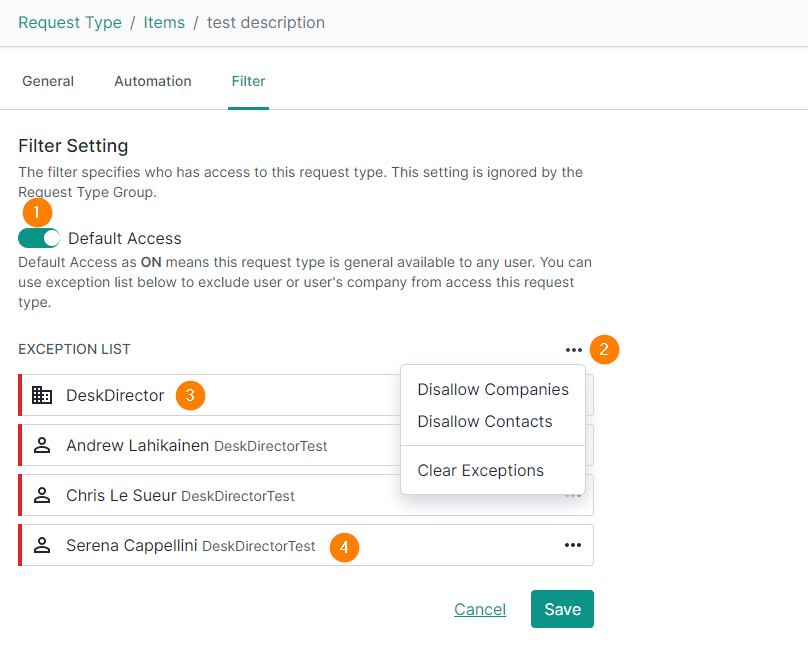 Default Access. This defines the default access level of this type. Global on means that everyone will have access to this type, global off means that no-one will have access to this type. It also changes the functions of some of the buttons (from exclude buttons to include).
Add Exceptions. If Default Access is set to on, this button will allow you to exclude companies and contacts from accessing this portal type. If Default Access is off, it will allow you to include companies and contacts.
Company exclusion. Contacts from this company will not have access to this portal type by default, unless you drill down another layer and give specific contacts access
Contact inclusion. This contact's company has been excluded from using this type, however, they have been included and will be able to use it.