Tech Portal Board/Queue Access Configuration
Tech Portal Board/Queue Access Configuration
Updated by Edcel Ceniza
Much like how it's possible to grant/restrict ticket access for clients in the Client Portal, access to queues/boards can also be finetuned for your technicians.
Global Tech Portal Settings
This determines the global setting of which boards/queues from your PSA will appear in your DeskDirector instance. To configure this, login to your DeskDirector admin console then head to Tech > Settings and you should see a page that looks like this:
"Boards" is used for ConnectWise instance and "Queues" for Autotask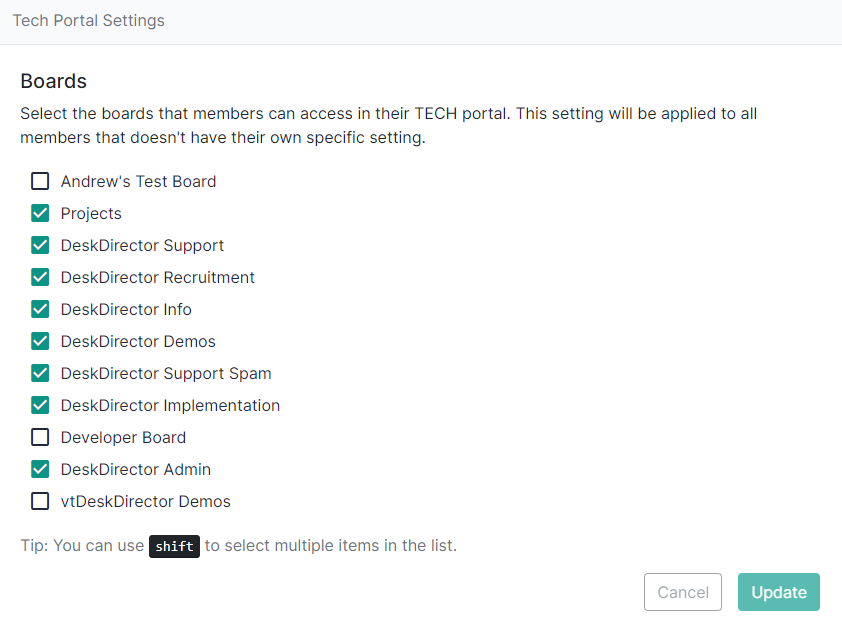 Here, you just select the boards that members can see in their DeskDirector Tech Portal. This setting will be applied to all members that doesn't have their own specific setting.
Member Ticket Access Configuration
You can finetune the settings for individual members under Tech > Members/Resources > Select the Member > Tickets (discussed below):
Board/Queue Restriction
Here you can select specific boards/queues that you want to restrict a member's access to. Any changes here will override the global board/queue restriction.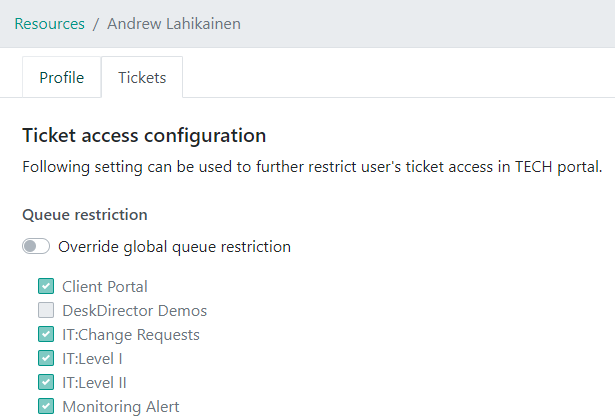 Company Restriction
Using this setting, you can finetune further each Tech member/resource' ticket access to specific companies. Just type the company name and predictive typing will show you a list of companies that match what you type

Tech Portal Board/Queue Access Use Case
There are several scenarios and possibilities on how the Tech Portal board/queue access can be used.
If you have new technicians and don't want to overwhelm them with issues from boards/tickets that they can't handle yet. You can customize their tech portal by restricting their access to specific boards/queues. Then as they progress, you can grant them access to the other boards gradually.
You want a specific user only to see tickets from a specific company.
and the list goes on.....