Setting up your custom domain
Note: Custom Domain is only available if you have purchased the Custom Domain add on for DeskDirector or if you are on an old Enterprise plan.
To get your custom domain configured, you need to provide us with a PFX certificate bundle. The certificate must match the relevant subdomain you want setup for your DeskDirector site, have the domain as a SAN on the certificate or be a wildcard certificate. It must be issued by a trusted certification authority such as GoDaddy, GeoTrust, Digicert etc.
At this stage, we do not support Let's Encrypt certificates due to their short expiry date.
Certificate Setup 
Export your certificate as a PFX bundle. Instructions provided later in the article under Exporting your certificate to PFX format.
Log a case with DeskDirector support either from The DeskDirector Support Portal or by emailing support@deskdirector.com
Let them know you want a custom domain setup. You will need to provide:

FQDN of the Custom Domain you're requesting.
The .PFX file you've generated.
The password for the .PFX file.

You will need to add a CNAME DNS record pointing to your Desk Director Instance URL.

i.e. if your Desk Director site is mycompany.deskdirector.com and you would like the domain mycompany.XYZ.com, add a new CNAME mycompany.XYZ.com with the target set to mycompany.deskdirector.com.

We will get everything setup on our end and let you know once it's done! Your *.deskdirector.com site will continue to function the same as always.
Ongoing Renewals
It's important that you note down your certificate expiry date and contact us with your newly issued certificate atleast 1 week prior to the expiration date to avoid any interruption of service. This is your responsibility.
You must follow the same process as above when providing the renewed certificate. We will not accept reissued certificates containing only a public key which require us to manually associate an existing private key.
Exporting your certificate to PFX format
This assumes you already have already created a CSR, had it signed by a CA and completed the certificate request. If this is a new certificate, please follow the instructions from your certificate provider until you get to the point where you have the signed certificate in your certificate store, then proceed with instructions below.
Log onto the computer or server that has the certificate which has been signed by the CA
Open Start > Run -> mmc
In the console window, select File -> Add/Remove Snap-in
Add the "Certificates" snap-in. In the window that appears, select "Computer account" -> Next -> "Local Computer"
Expand out the Certificate store into which you imported the certificate. In most cases this will be the personal store.
Right click the certificate you want to export then go to "All Tasks > Export…"

A wizard will appear, click Next. On the second screen you will be asked if you want to export the private key. It's important that you select "Yes, export the private key"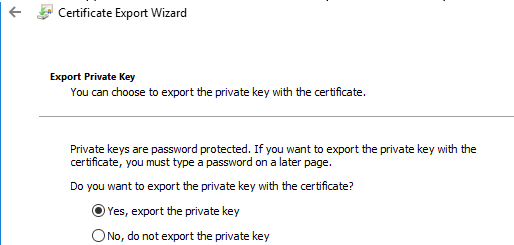 Click Next. On the next screen, "Personal Information Exchange – PKCS #12 (.PFX)" should already be selected. Click the checkboxes for both "Include all certificates in the certification path if possible" and "Export all extended properties"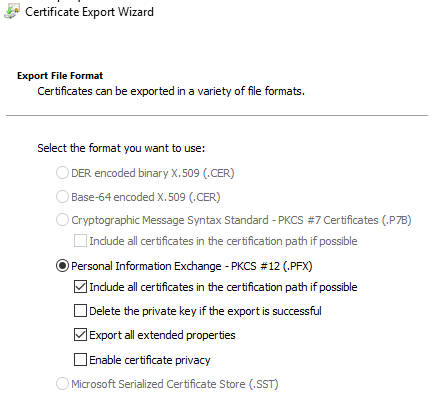 Click Next, on this page you will need to select password and enter it twice. Please be sure to use a unique, randomly generated password at least 8 characters long.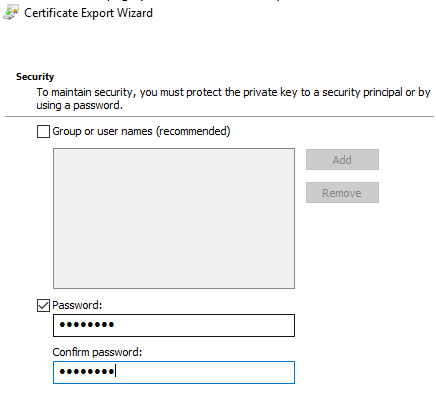 Click Next, on the next page you will be asked to save this somewhere. Choose a save location and name your file to match the domain name on the certificate. Click Next then Finish to save the file.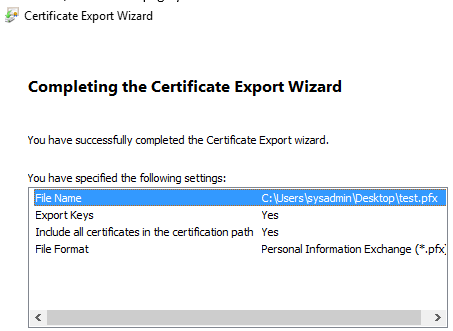 Once done, you should get a message that the export was successful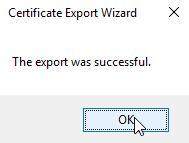 You should now have a PFX bundle ready to send to us. Follow the instructions listed under Certificate Setup above.
 Exporting your certificate to PFX format (Linux)
If you currently have your certificate setup with apache or installed on a Linux server (.pem & .key), we trust you know what to do.
Please convert this to a PKCS #12 bundle using OpenSSL.
---
---