Branding the DeskDirector Teams App
Branding the DeskDirector Teams App
Updated by Andy Chen
The DeskDirector Teams app provides MSPs with the ability to brand and personalize the app to match their client portal's look and feel. This is a great way to ensure consistency and professionalism across all tools and platforms.
Think of branding your DeskDirector Teams app like installing a new app on your smartphone. The app icon and general theme are set by the smartphone's system settings—akin to Microsoft Teams in this case. However, once you open the app, it can have its own look and feel, which is controlled by the settings within the app itself. In the context of the DeskDirector Teams app, this is analogous to the embedded portal that can be customized via your DeskDirector Admin portal.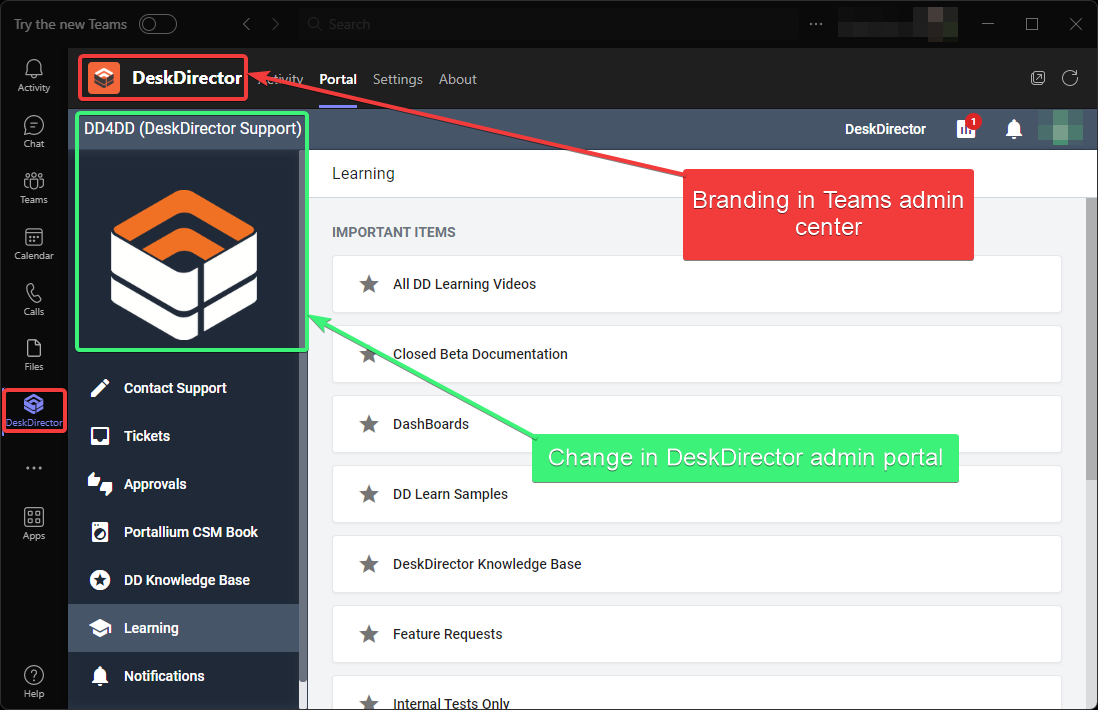 Branding Settings in Microsoft Teams
Your need access to your clients' Microsoft Teams admin center to customize the DeskDirector Teams app. The properties you can modify include:
Short name
Short description
Full description
Privacy policy URL
Website URL
Terms of use URL
App icon
Outline color of the icon
Accent color
Here is the link to the DeskDirector app in Microsoft Team admin center, please make sure to sign in as an admin user of the Teams tenant that you want to customize the branding.
https://admin.teams.microsoft.com/policies/manage-apps/36c8b491-a1dc-43d0-bfad-ef27e98ef5fb
For more details, please refer to the official Microsoft guide: Customize Apps in Microsoft Teams
Branding of the embedded portal
This is the same as how you would brand your web version client portal. Learn more