Updated by Andy Chen
Installation Loop Issue
Problem:
User experiences an installation loop issue with the DD Teams app. Despite attempting the installation process, the user is continuously prompted to install the portal app.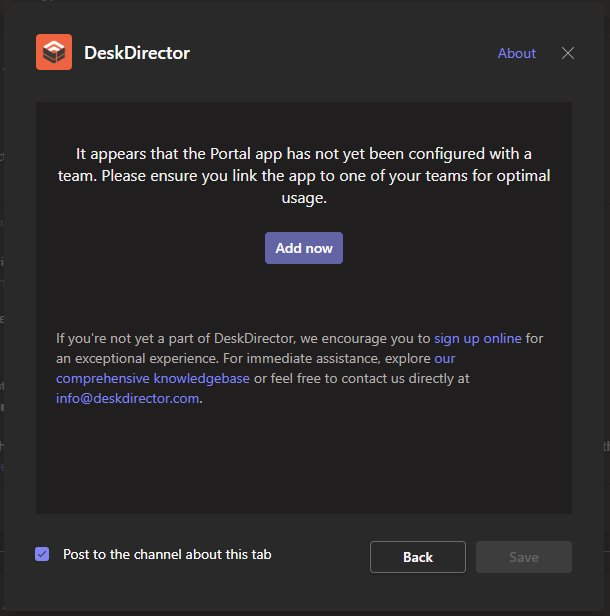 Potential Cause:
We found that there is significant delay when the DD Teams app is granted permission and being able to install the app properly. It may take up to a day or two for Microsoft Teams to unblock the app's notification bot which is required to set up the app. Please wait for 24 to 48 hours and reinstall the app as suggested below.
The issue may also occur if the bot has not been installed prior to setting up the integration. The bot's installation is a prerequisite for successful integration setup.
Solution:
Uninstall and Reinstall the DD Teams app: Navigate to the team where the app is being installed. Go to "Manage team" under the "..." menu to the right of the Team's name. Under the "Apps" tab, find the DeskDirector app and uninstall it.
Install the DD Teams app to a team: Reinstall the app to a team's channel. Make sure to install both the tab and bot. The default install button should include both components. Do not install the tab without the bot.
Check for Bot Installation: After reinstalling, the bot should be set up automatically in the background. Upon successful bot installation, you should receive a welcome message.
Set Up the Integration: Once the bot is installed, proceed with the integration setup.
Please refer to the installation guide screenshot for a visual reference: Installation Guide.
If the issue persists after following these steps, please contact our support team for further assistance.
"No Service Provider Found" Issue
Problem:
When initializing the DD Teams app, you may encounter the following message: "No Service Provider Found". This error prompts you to contact your service provider to enable Microsoft Teams' integration feature for you.
Cause:
This issue usually arises when attempting to set up the Client portal mode for your clients' teams, and their Azure Active Directory (AD) tenancy hasn't been linked to one of the companies in DeskDirector in the Tech mode.
Solution:
To resolve this issue, follow this documentation.