Getting Started with the Learning Center
Getting Started with the Learning Center
Learning Center
The Learning Center is a great way to educate your clients and share documents with them.  You can also link to videos and files hosted online.  This page will take you through the steps to set up and customize your customer's Learning Center experience.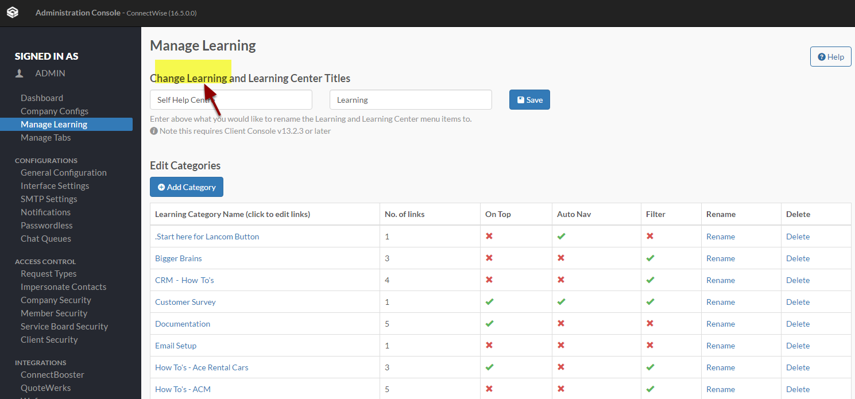 Head over to the Manage Learning tab of your Admin Console page:
https://yourcompany.deskdirector.com/admin/learning.aspx
(These steps are the same for both ConnectWise and AutoTask clients)
Creating your first Category and Items

You can think of Categories as the folders that contain individual Learning Center pages.  We provide everyone with some Microsoft examples to get them going - you can of course change or delete these if you wish.
1.  Insert a New Category

Click the Add Category button. In the text box, enter a Category name that you want your clients to see and click Save Changes.  This will add your new Category to the end of the list.  Now you can click on this Category to be taken to the options for it.
2. Add one or more Items to the Category

1. To add an Item, Click Add Learning to open the new item screen and fill in the infomration.
2. To edit an item, click edit. This will take you to a new screen to edit the details.
3. To delete an Item, simply click Delete, and when the pop up screen appears, click Yes.
4. To set up who can view the learning centre, click on manage filters.
That's it, you're done!
Setting up Learning Center Access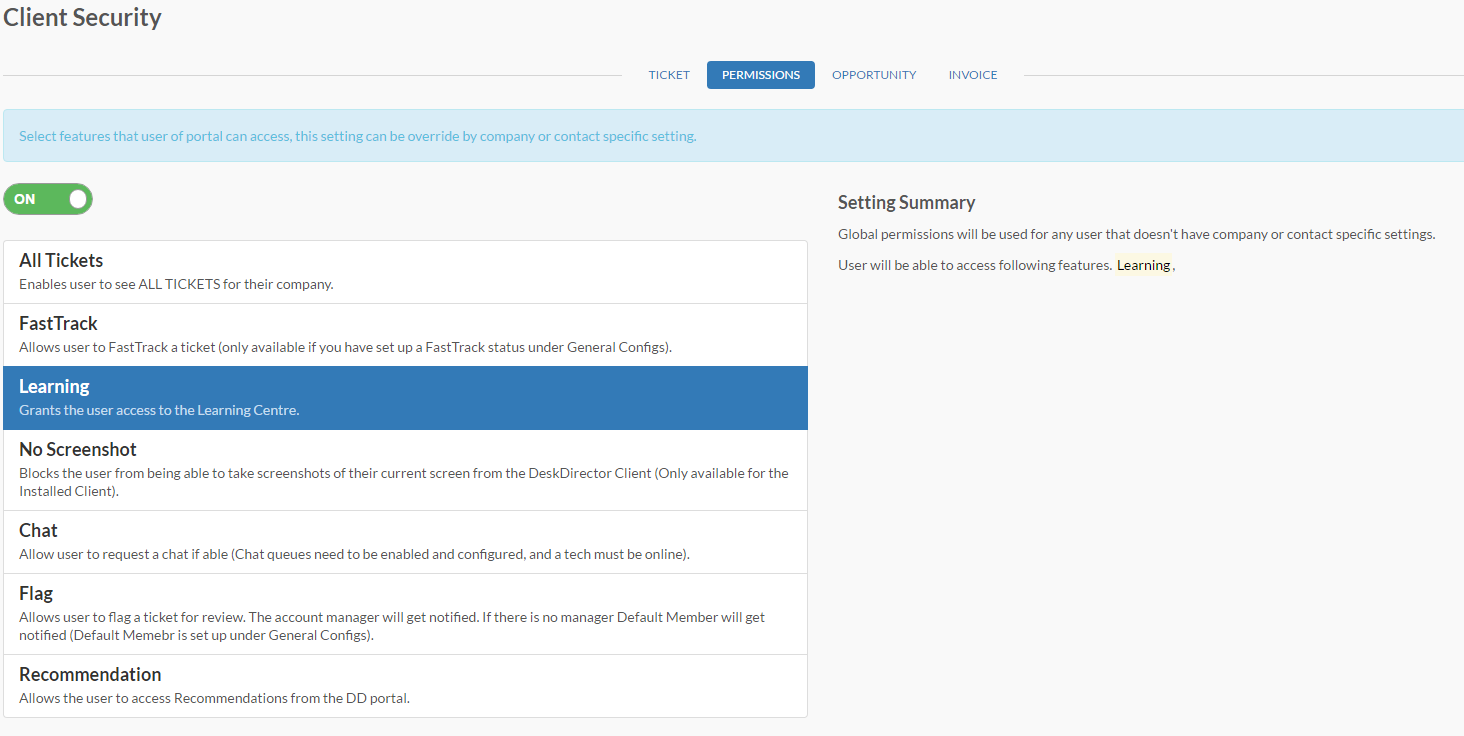 To set up the Learning Center, head over to your Admin Console under Access Control > Client Security. On this page, under the Permissions tab, simply select Learning and add it to the list of global permissions. You can change this in a company or contact level too. This will enable Learning for all your clients.  
Set up Category Filters
You may want to create Categories that can only be seen by particular clients.  This can be done in the back in the Manage Learning page.
Click on the Category you want to add a filter for to open the Category Settings.
Click the Manage Filter button.
On this screen, you can add entries to Account Filter or Contact Filter.
For ConnectWise users, select the Company from the drop-down box and click Add.
For AutoTask users, click Add.  This will open the selector page where you can select clients to add to the filter.  
Only clients added in the filter will see this Category.  If both fields are left blank, all your clients will be able to see the Category.