Updated by Edcel Ceniza
The Notification feature allows users to receive alerts on their desktops for certain events.  These notifications appear on the desktop and can be dismissed by the user, or they close after 10 seconds.  
The client will be notified when:
A ticket status is changed
Notes or time entries have been added
A company broadcast from DDTech
All notifications can be viewed in the client as shown.  Along the top, there are some controls:
Mark as read - will mark all notifications as read, removing them from view
Refresh - updates the list of notifications, adding any newly received ones to the list
Previous and Next Page - when there are too many notifications to be displayed on one page, these can be used to navigate the pages
Settings - under this menu is an option to Show Read.  This will include all read notifications in the list, allowing you to review past notifications
Enabling Notifications
To enable notifications, just login to your admin console and head to Portal > Notifications and simply tick the 'Enable Notifications' box. Don't forget to Save Settings.

Once enabled, notifications will be available to all of your clients. To limit which companies or contacts receive notifications, add the companies or contacts to the notification filters. We recommend limiting this feature to individual clients as you update each one.
Enabling Notifications on select boards/queues
Notifications can be enabled just for selected boards and this can be done in Notification Enabled Boards. Just search for the board you want to enable notifications for in the dropdown and click "Add". Save the changes and that will now enable notifications for the boards selected.

Setting up notification filters
Notifications can be further finetuned by enabling it for certain companies or contacts only under Notification Filters . It is an OR filter, so this must be taken into account when setting up the filters.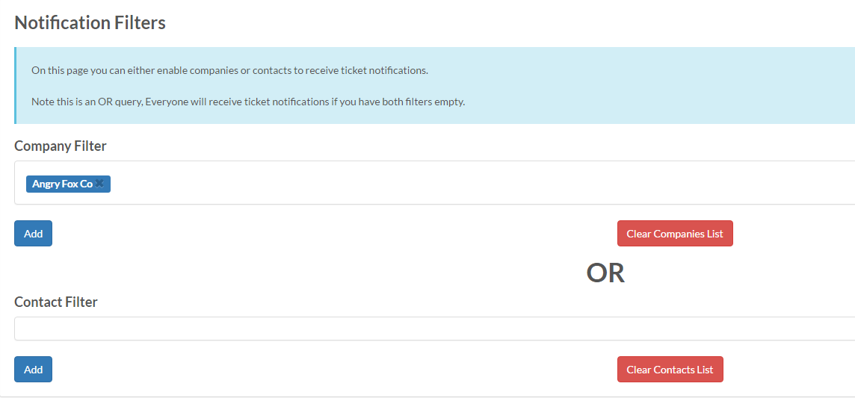 Setting Up Ticket Notification Status Exceptions
This feature allows you to control which statuses does not trigger notifications. By entering a status name, whenever a ticket comes in with any of these statuses, there will be no notification triggered.