Email Broadcast Update (Tech Portal v1.32)
Email Broadcast Update (Tech Portal v1.32)
Updated by Edcel Ceniza
As of 14th of Dec 2020, DeskDirector Tech Portal v1.32 has been released which contained several updates. You can review the release notes under /admin/v2/release-notes/tech/v1.32
This update contained several new features and improvements relating to Email Broadcasts. Here's an overview of the release notes relating to Email Broadcasts.
ADDED New Broadcast page
ADDED Broadcast receiver list preview
ADDED Allow sending of broadcast by email
ADDED Tracking delivery of email broadcasts
IMPROVED Great improvement of company selection for broadcast filter
IMPROVED New contact tag filter for broadcasts
IMPROVED Allow creating and browsing of broadcasts via mobile
When DeskDirector first released the broadcast feature, it was gamechanger at the time. This allowed our customers to notify their own customers via the desktop portal. As we entered 2020, more and more people switched to web portal, which meant that dedicated delivery channel was needed. With DeskDirector's latest achievement on its own email delivery system, it is now possible to deliver broadcast with beautiful email templates.
Alongside this new feature and release, many long term issues have also been resolved.
1. New 'Create Broadcast' Interface
This is how the create broadcast interface looks with the v1.32 update. Pretty big improvement from the last interface when creating a broadcast.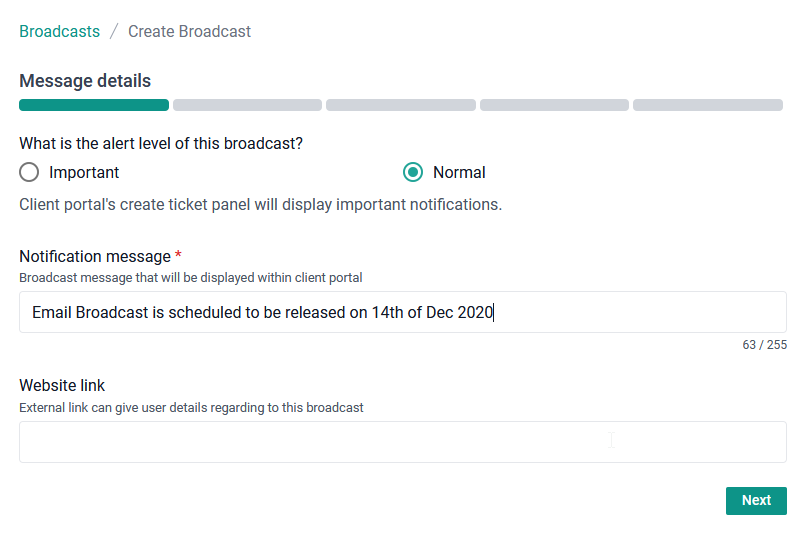 2. Email Broadcasts
Since the new broadcast system is now able to notify customers via email, a Rich Text Editor is now used to create well-laid out emails contents as broadcast.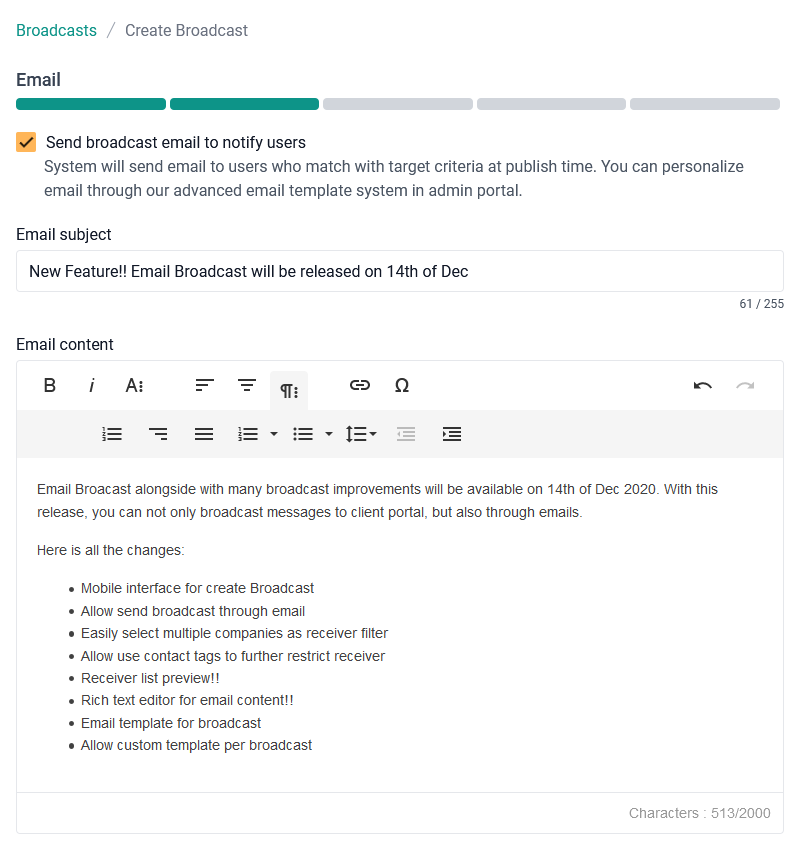 3. Selecting Custom Template
With email broadcast, comes the ability to use email templates!

4. Company Selection now can be done with ease
So we also added improvements on how to use the Company filter. You should be able to send targeted broadcast to specific companies with ease now.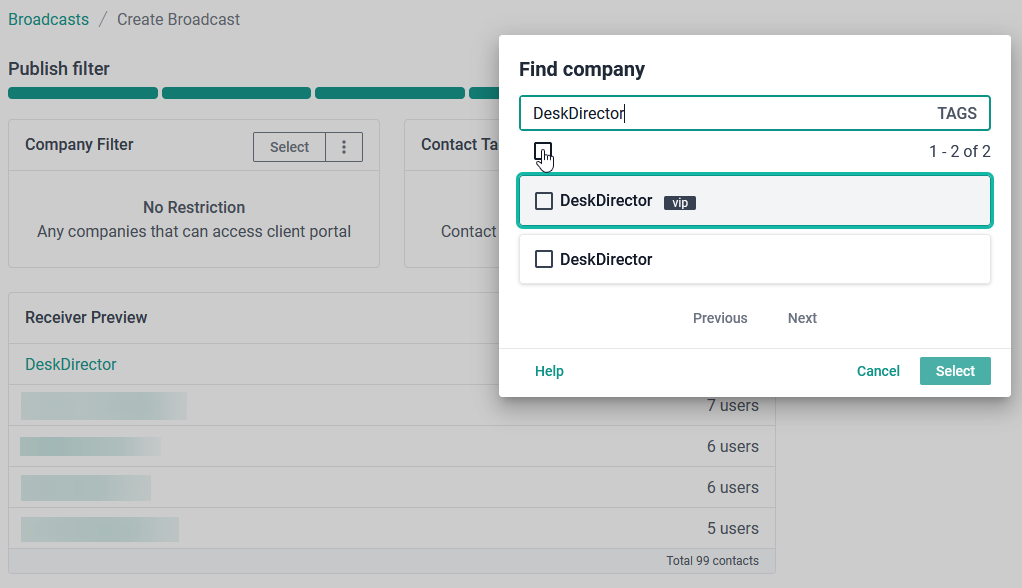 5. Contact Tag filter
Finetune emails further by using our new Contact Tag filter. This will enable you to send targeted broadcasts to customers with specific contact tags!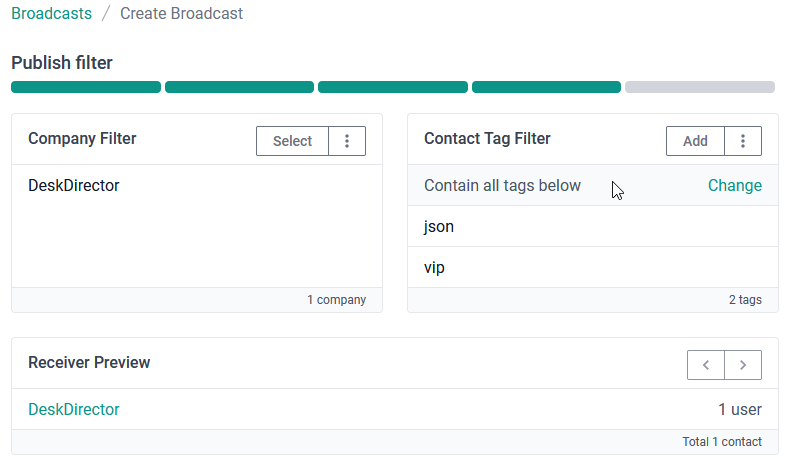 6. Email Delivery Tracking
Want to check out email broadcast delivery progress? Of course, you can do it!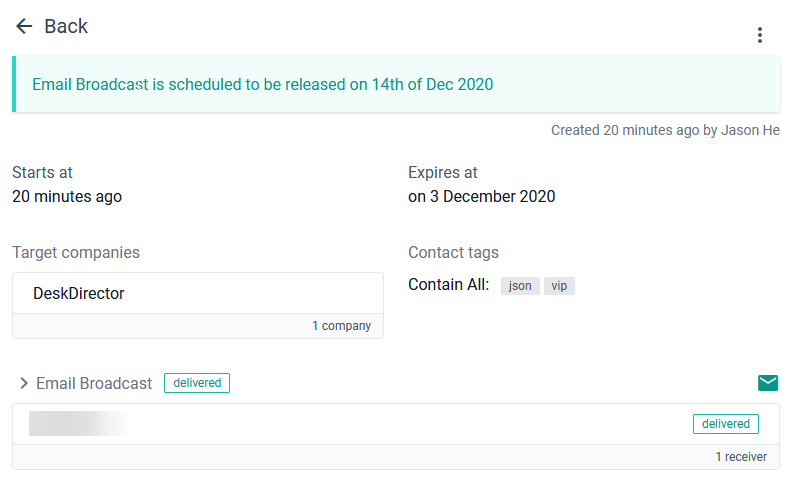 7. Broadcast from Mobile
Not able to create broadcast in mobile before? Worry no more as you can now create email broadcasts while on the beach or in the gym!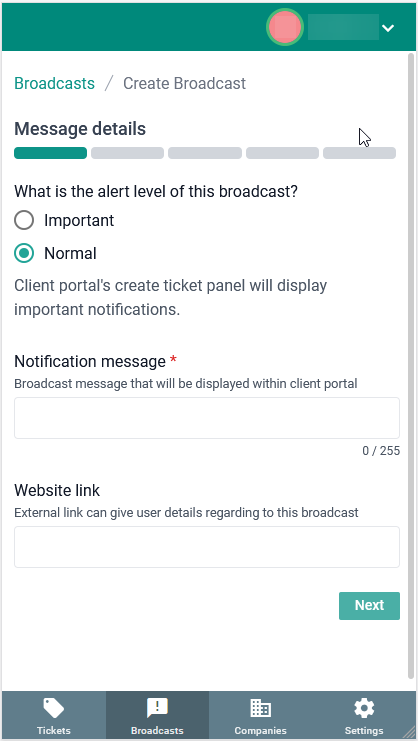 8. Email Broadcasts from mobile
It wouldn't make sense if we only allowed creating normal broadcasts via mobile. With this update, email broadcast are also allowed from mobile.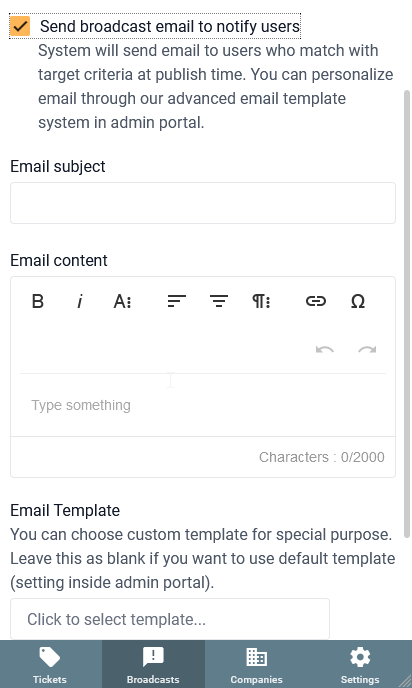 As you see, this is a complete overhaul of the DeskDirector broadcast's UI/UX, so you should/would see other changes that is not discussed on this article as we only laid out the biggest changes here.
Email Broadcasts FAQ
Q. How can I tell which email account is used to deliver the broadcast to my clients?
A. This is based on the company settings that the user creating the broadcast belongs to, and will be determined as below:
If the user belongs to a company which has a custom brand package assigned, then it will use that email delivery account.
If there isn't a brand package applied to the company the user belongs to, then it will fall back to the global email delivery account.
You can find more information here on Brand Packages.
You can find the default email delivery account in the admin portal under Email > Delivery Accounts