Getting Started with Broadcasts
Getting Started with Broadcasts
Updated by Edcel Ceniza
Broadcasts are an excellent way to notify your customers on critical outages and important messages. Broadcasts can be easily created from the DeskDirector Tech Portal.
Who can create broadcasts?
Broadcasts can be created either by members/resources set to Master Admin or Advanced User. Managing member/resource tech portal roles can be easily done from the DeskDirector admin console.
Creating a broadcast:
Broadcasts can be easily created from the DeskDirector Tech Portal, then click on the broadcast tab in the left panel. As mentioned above, the technician must have a specific role to be able to see the tab or use feature. When on the broadcast list page, click on "Create" button to start.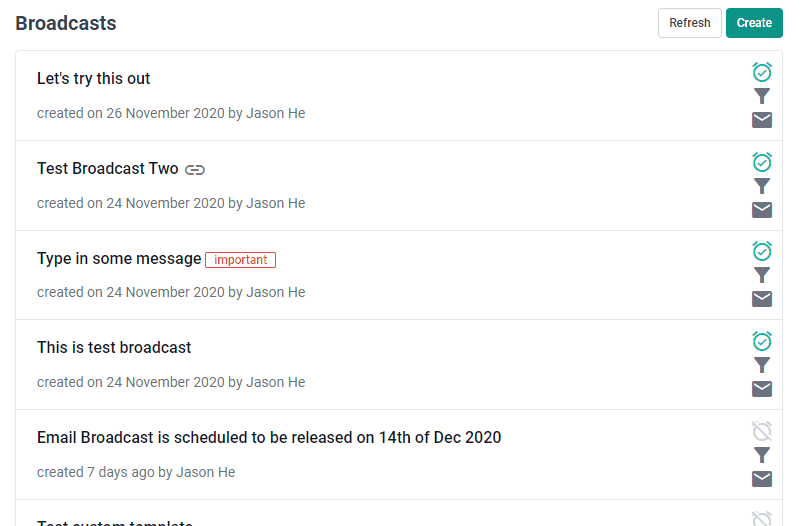 Enter the message details
To get started with creating a broadcast, select whether the broadcast is "Important" or "Normal". Broadcasts set to "Important" will appear on several pages, while "Normal" broadcasts will only appear on the Notifications tab of the Client Portal.
Enter a message which can be up to 255 characters (this is required). You can also add a link to to the broadcast message, which you can use to direct users to an external site that contains more information of the broadcast that can't fit within 255-character limit on the message.
Create email broadcast?
Sending broadcast as email was introduced in Tech Portal v1.32 (Email Broadcast Update). This enables you to send a separate broadcast via a formatted email into the target company/contact's email address.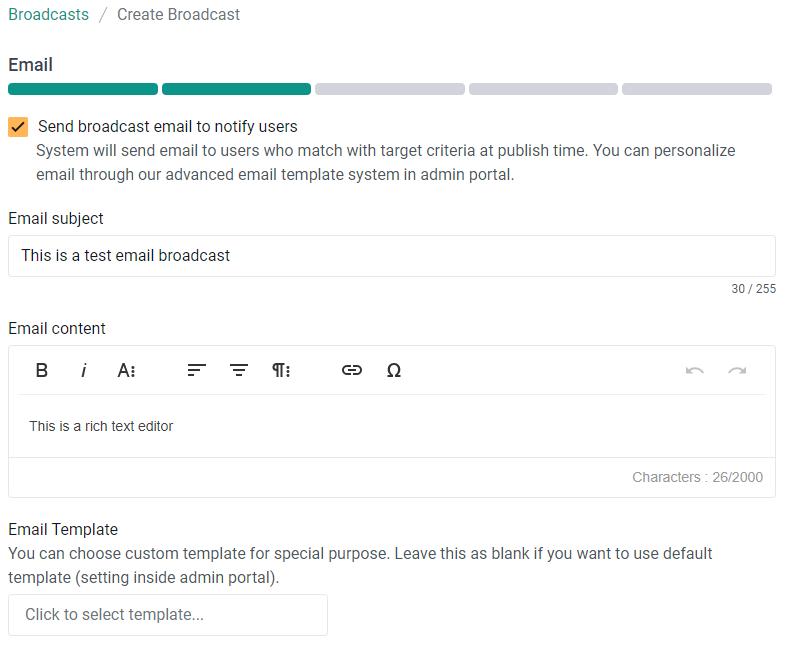 If you just want to send a simple broadcast that will appear in the portal, you can uncheck "Send broadcast email to notify users". Check this more detailed information about the Email Broadcast Update.
Only customers on the Dynamic Plan or Legacy Plan can create and send email broadcasts.
Select publish and end date
When creating broadcasts, you can specify when you want it to go live and when you want them to end - either manually or a scheduled end.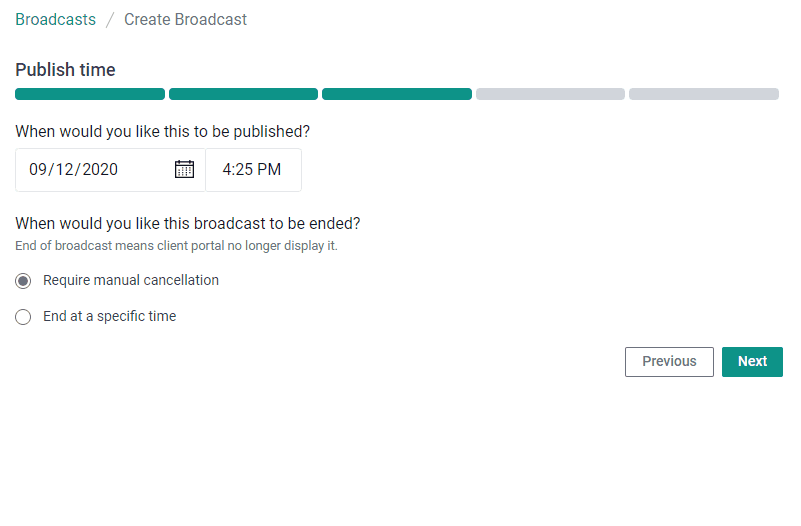 Select broadcast filters
This step allows you to select the companies you want to target for the broadcast. You can search companies via their company names, or you can use company tags if you want to target the broadcast to companies with specific tags. You can finetune the targets for the broadcast using Contact tags. This comes handy if you want to target a specific set of users with the same tags, or those under a group tag.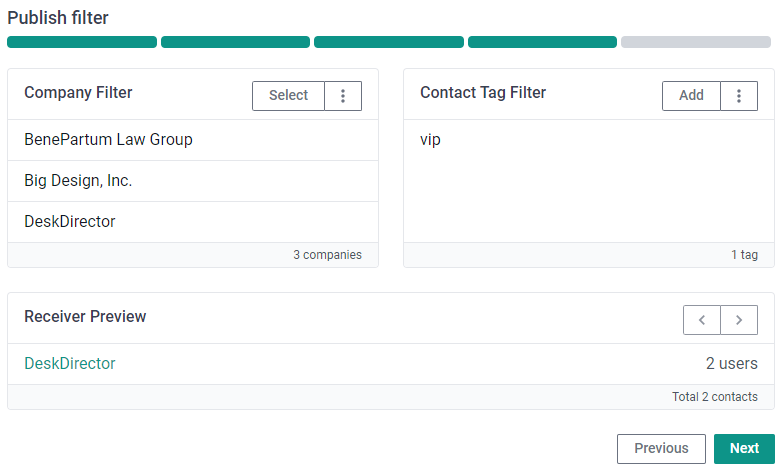 In the example above, we are trying to target the notifications to three companies, then filter it further by targeting it to contacts in the company that has the "vip" tag in them. Only 2 users matched the filter and will be the only ones who will be targeted for this broadcast.
Review the broadcast.
The last step in creating a broadcast should be a preview of everything that you have set so far. It will show how the portal notification will appear, the publish and end time, how the email notification will look and who the broadcast recipients are.
If there's anything you want to change, just click on the Previous button. DO NOT click on "Back" from the browser (or the "Back" shortcut from your mouse or keyboard) as you will lose all the changes you made.
The limitation
Email broadcast has limitation on how many receivers it can include. Currently it is restricted to 500 receivers. Such limitation was introduced due to Office365's throttling.
10,000 API requests in a 10 minute period
4 concurrent requests
15 MB upload in a 30 second period
Such limitation restrict our system from sending out large amount of emails within short amount of time. If we use best case scenario, 4 concurrent requests, and 1 second per 1 batch. That means to deliver 500 emails, it will take (500 / 4) * 1 / 60 = 2 minutes. Of course, if we completely used 4 concurrent requests, that means during that 2 minutes, we cannot deliver any ticket notification, nor handle of mail login.
If we use conservative calculation (1 concurrent request, 2 second on each requests), (500 / 1) * 2 / 60 = 16 minutes. For any outage, it will take 8~16 minutes before all users to receive notification. That is not reasonable. Especially when some of outage may fixed within 15 minutes.
To get best outcome, there are many email campaign SAAS (software as a service) available, such as MailChimp, MailGun. Those should be the go to place if you want to cover case where you want to send notification to massive users.
Alternatively, you can use group mail. Below is how you can achieve that.
Setup an group email for one of your customer company. Let's call it as all-peoples@example_company.com
Add all emails from that company to that group. (You can reuse this for any other purpose, it is wise to always have an global group for any organization)
Add an contact in ticketing system with email as all-peoples@example_company.com
Add tag to the contact, such as group-email
When broadcast, only cast to contact with group-email
In the future, we may improve the email broadcast to have different behaviour based on email delivery method. For SMTP and SendGrid delivery, system can allow higher throughput. But the best way of delivery will still be group email. Group email was designed for such scenario to deliver notification at scale. It is part of email eco system.