Setting Email Templates for Notification Events
Setting Email Templates for Notification Events
Updated by Edcel Ceniza
By now, you should have created/updated a custom email template and ready to use it to any of your site's events. DeskDirector Notification Events makes it easy to assign email templates to specific events in your DeskDirector instance.
Notification Events
There are 3 types of Notification Events in DeskDirector, each of which have different events that can be assigned with specific email template. They are as follows:
Event Type

Description

Events

System Events

For login tokens and password reset events

Mail Auth Token
Password Reset

Global Events

Used for the ticket approval and forms request events

Approval Required
Approval Granted
Approval Declined
Form Request

Board Events

Mainly for ticket life cycle for specific boards

Ticket Created
Ticket Closed
Ticket Owner Notification
Assigned Technician Notification
CC Notification
Status Changed Trigger
Setting an email template for an event
Assigning a custom email template to a specific notification event should be very easy. Just login to your admin console and head to Email > Notification Events and select the event you want to assign a template for. Look for the specific event, click on the "change" button then select the custom email template from the pop-up. Here's a screengrab simulating this: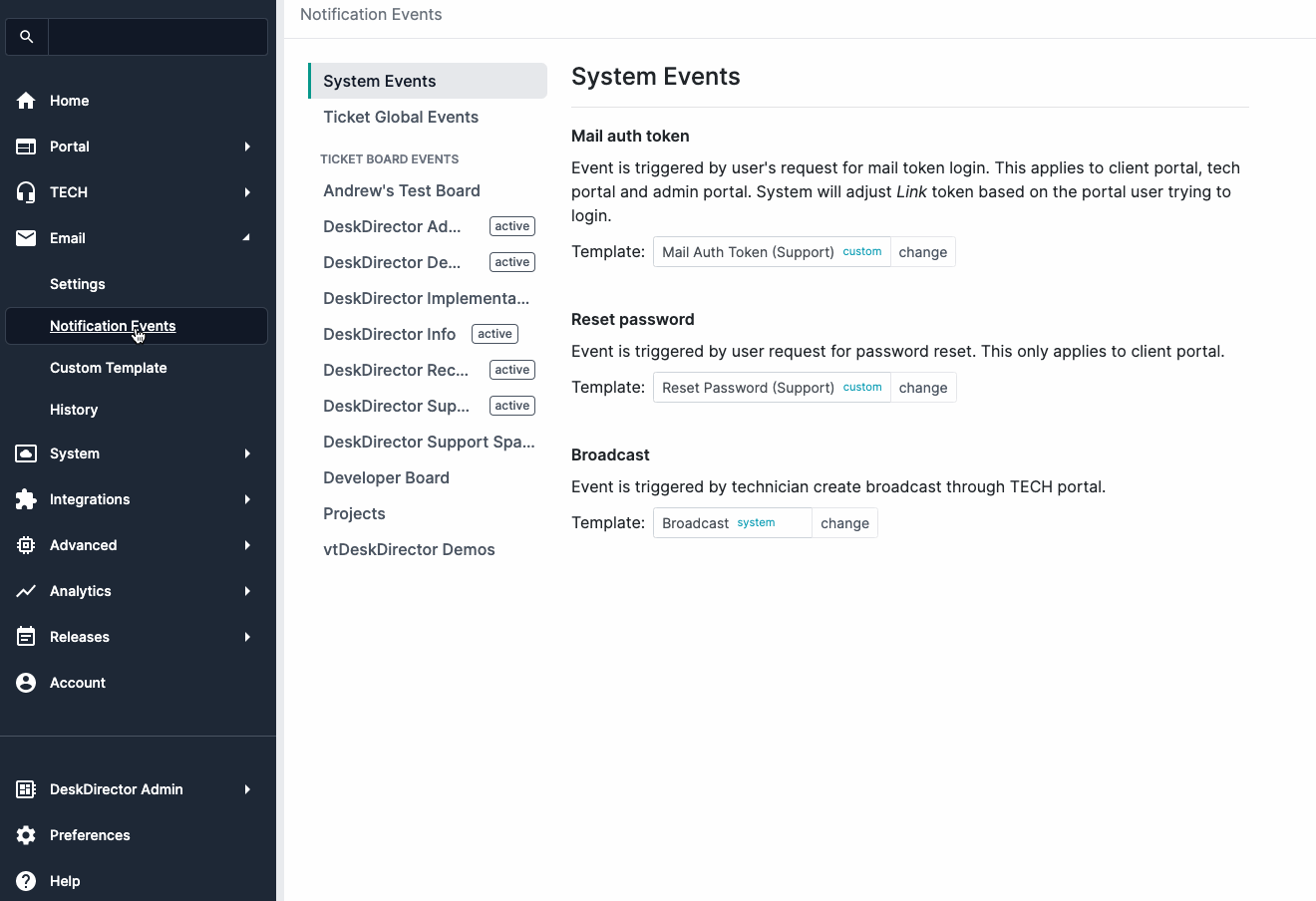 In the screengrab example above, we created a custom template for "Approval Required". So we went to Notifications Events > Ticket Global Events > Approval Required then selected the email template we created for it.
Any changes to the page is autosaved, so there is no need to click on a save button. After doing the change, your custom template should now be used for that specific event moving forward.
FAQ:
Q: Why is the custom email template I created not appearing on the template list on the Notification Event?
A: Each email template you create is specific for the event where you created it. For example, an email template you created under "Mail Auth Token" can not be used as an email template for "Approval Required".