DeskDirector Desktop Portal V5
DeskDirector Desktop Portal V5
Updated by Edcel Ceniza
v5 of the DeskDirector desktop app was released early 2022. This can be downloaded via the admin console > Portal > Desktop Installer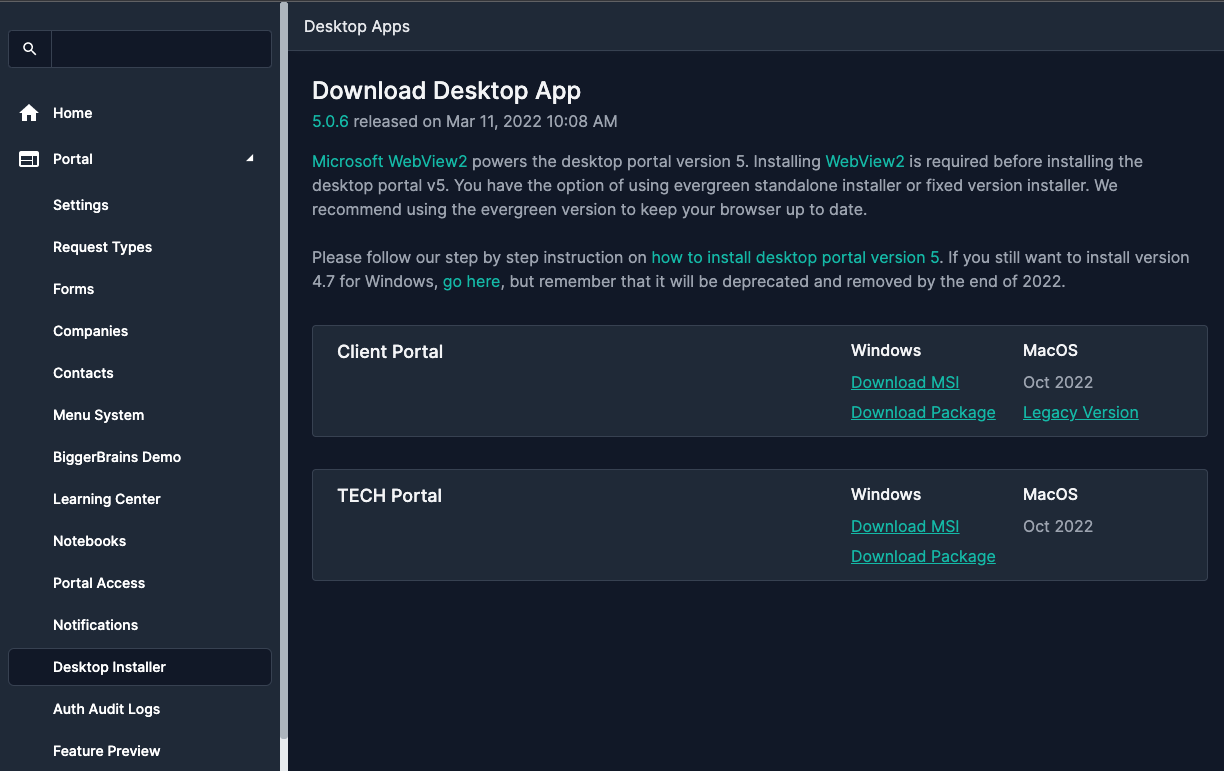 What's new in v5?
The biggest part of this deployment is the DD TECH Portal version of the desktop app
What's the difference between v4 and v5?
Portal v2-v4 was built on Electron while v5 is built based on Microsoft's WebView2. The kernel of WebView2 is Chromium and C# (.Net). Compared to Electron, WebView2 is more secure.
Read more about the differences between desktop portal versions.
How do I specify branding for v5?
Unlike v4 where the branding is created and pre-built with the installer, v5 is much more flexible as you can specify the branding (logo, favicon, portal title) via the appsettings.json before attempting installation.
Read more about the installation process for v5.
Can I still use v4? Where do I download it?
Yes, you can still use it and you can download it via the "Legacy Version" link in the Desktop installer page.
However, the plan is to deprecate v4 end of 2022, so it's best to use v5 as much as possible moving forward.
How can I deploy v5 seamlessly to multiple machines?
We have created a PowerShell script that you can use to deploy v5 seamlessly to multiple machines.
Is there a plan to release a Mac version of v5?
WebView2 is currently only available for Windows. Microsoft is planning on releasing it for MacOS around Oct 2022. GitHub issue. Until then, v5 will only be available for Windows.