Setting up Content Security Policy (CSP)
Setting up Content Security Policy (CSP)
Updated by Warwick Eade
Content Security Policy for Teams App
As in Microsoft Teams, tab applications are hosted within iframe elements in Microsoft 365 app and Outlook web clients.
DeskDirector makes use of Content Security Policy (CSP) headers as a security measure that helps prevent attacks. It's necessary to configure the frame-ancestors settings in the your DeskDirector Admin Portal. This should include the Authentication Portal, Client Portal, and Tech Portal.
Setup method 1
To setup the required configuration automatically, you can go to your admin portal -> Integrations -> Teams.
In the Embedding Configuration section, open the drop-down menu and click on the "Enable Client Portal" and "Enable TECH Portal" options.
This is will automatically add an allow-list to your CSP configuration (the full list of the domains is at the end of this article).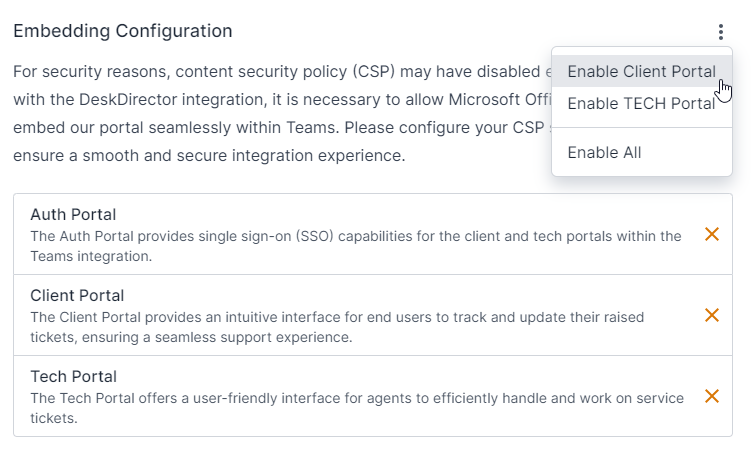 Setup method 2
Here's an instructional video on how to set this up manually:
Here is a step through:
Here is all the required settings.
Host

frame-ancestor permission

DeskDirector app

https://teamsapp.deskdirector.com

Microsoft Teams

https://teams.microsoft.com

https://*.teams.microsoft.com

https://*.skype.com

Microsoft 365 app

https://*.microsoft365.com

https://*.office.com

Microsoft Outlook

https://outlook.live.com

https://outlook.office.com

https://outlook.office365.com

https://outlook-sdf.office.com

https://outlook-sdf.office365.com