Editing, Generating, Downloading the DeskDirector Clients
This article will explain how you can edit, create and download the DeskDirector clients (both the Client Console and Staff HUD).
1. Navigate to the Implementation Portal
You can find the implementation portal at the following address:

2. Login with your details
You should have been sent as part of the implementation a username and password to use to log in. If not email support@deskdirector.com to get a new one.
3. Edit your DeskDirector details
This is where you can customize DeskDirector's Client Console with your branding
3.1. Edit your DeskDirector name and startup settings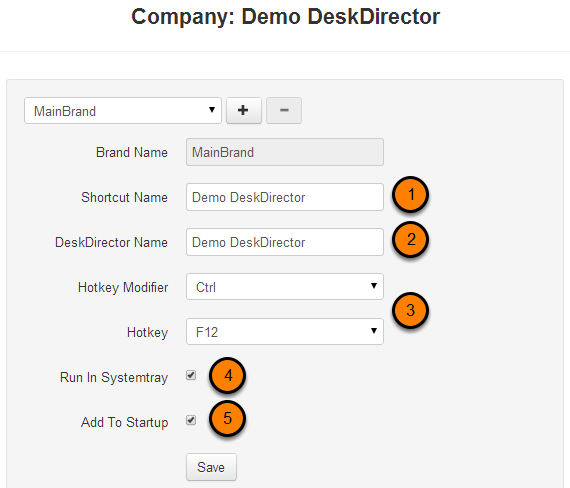 This section of the edit page allows you to change the name and startup details for the DeskDirector Client Console
Under Shortcut Name enter the name DeskDirector will have when it appears on the Desktop of the computer. This is useful if the DeskDirector Name field is too long for a desktop icon (Note: If left blank it will use the DeskDirector name here)
Under DeskDirector Name enter what you would like to call DeskDirector in the start menu, system tray and application title.
Under the Hotkey section configure a hotkey that can be used to start DeskDirector when running in the System Tray. You can enter just a Hotkey without a Hotkey Modifier however note other applications may share this hotkey and BOTH DeskDirector and the other application will trigger.
Run In Systemtray will cause DeskDirector to always minimize to the system tray when the user selects to close it.
Add To Startup will cause DeskDirector to start when a user logs in. It will start in the system tray rather than full screen if Run In Systemtray is selected.
End users can change the Hotkey and Systemtray settings themselves by going to Settings from the My Profile page of the client
3.2. Uploading an icon and logo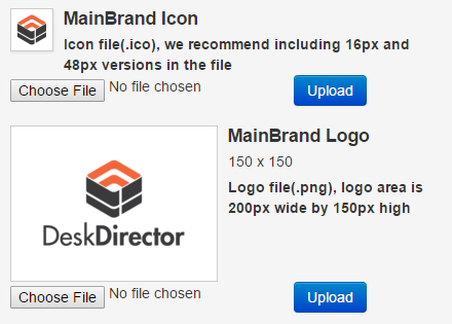 This section of the page allows you to upload a custom icon and logo
Select Choose File to select an icon file (Note: This needs to be in the .ICO format)
Click Upload to upload the icon
Select Chose File to select a logo to use (Note: This needs to be in the .PNG format and ideally 200px x 200px)

Click Upload to upload the logo
4. Generating the clients
5. Downloading the clients
6. Creating a "subbrand"
DeskDirector allows you to create subbrands or other branded versions of the Client Console. This is useful if you have different company names within your business or want to add your client's branding in place of yours (Great for clients with on staff IT).
6.3. Set up the brand name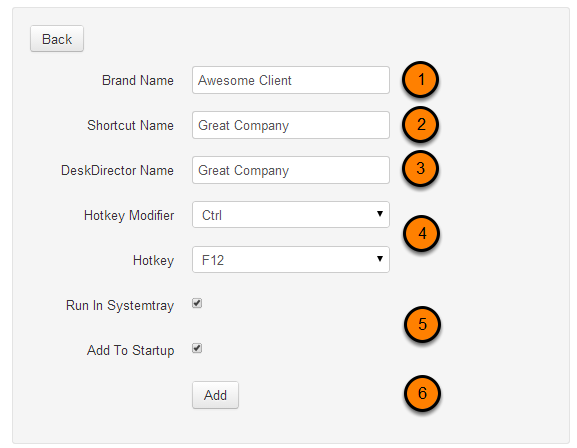 Give the branded version a name
Enter the Desktop shortcut name
Enter the DeskDirector name
Chose the hotkey
Select the startup and tray settings
Hit Add
---
---