Frequently Asked Questions
Frequently Asked Questions
Listed below are the questions we get asked regularly about deploying and maintaining DeskDirector. We will be adding things here all the time so check here first if you have a problem/question.
There are also some more general questions (licensing, features and requirements) on our website. Just head over here to view them.
1. Client Console (what you give your clients)
1.1. Is there an Auto Update feature for the client console?
With the DDPortal client, it will automatically update after 15 minutes of inactivity on the clients side. This means that once installed, it will always stay up to date with the updates that we push from our end. 
For the older DeskDirector client and the Terminal Server version of DDPortal, no. The client will simply update itself to the latest version if you install a newer or the same version over the top of an existing install.
1.2. My clients can or can't see tickets I was expecting them to be able to see
The tickets that a customer sees in View Tickets is controlled through the DeskDirector Admin Console. Under Client security you can restrict what they are able to see, and you can always use the impersonate contact feature to check what a client sees. 
1.3. Does DeskDirector support computers not on a domain?
Absolutely we do. They will just have to enter a username and password to log in the first time, or they can use or Passwordless log in. 
1.4. Does the client work behind a proxy?
It certainly does. It will automatically attempt to detect and use the system configured proxy. As long as the client can connect to https://[yoursite].deskdirector.com then it should work fine.
All connections from the client are outbound and secured using SSL behind HTTPS (port 443) so there is no need to open any ports other than this.
If your proxy server is not working for what ever reason, ensure that port 443 is open for users to: https://[yoursite].deskdirector.com
1.5. Is a ConnectWise portal password created for new users?
Yes if a new user is created by our Active Directory integration it will create a random and complex portal password for them. However you need to remember that you can also set their password in DeskDirector, and these two passwords work individually from each other. 
1.6. My clients can't see their ticket history (ConnectWise)
You likely have it set to not show closed tickets. You can change this by going to Setup Tables>Portal Configuration and changing the setting under the For Closed Tickets section.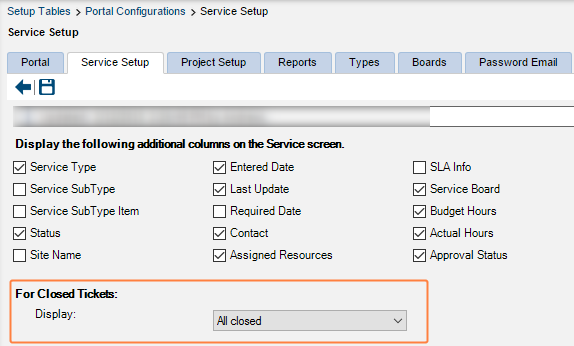 Also note that DeskDirector by design will only show tickets that have been updated in the last 3 months. This was due to changes in how we retrieve tickets. While before we queried tickets directly from ConnectWise, we now show them from our own database, which only saves tickets updated in the last 3 months, for convenience and speed in delivering tickets to the users. 
1.7. I have enabled a feature by adding someone to the DeskDirector Groups but this is not showing on their end (ConnectWise)
DeskDirector no longer relies on ConnectWise groups, as it now uses built in permissions in the Admin Console to control these features. 
2. General
2.1. Does DeskDirector's browser support Chrome Extensions?
The Client Console and Staff HUD use a browser control based on the Chromium engine (the same engine that the Chrome browser uses) for the display of webpages. Unfortunately Google doesn't allow for Google Chrome extensions to be supported by Chromium browsers. We are however working on a way to support this through another mechanism.